Programs
RCF offers a number of programs and fitness pathways for you whether you are just getting started or continuing along your fitness journey.
Foundation classes
Our Foundation Classes are designed to create a natural pathway into whichever RCF program you are choosing to jump into. In these classes, you will learn all the basic movements we utilize - all while conditioning your body for the normal programming. (Free w/ membership)
Strength & Conditioning
Our strength and conditioning workouts is a high intensity training program including different training modules such as Olympic Weightlifting, Power Lifting, Plyometrics, Gymnastics, Calisthenics, Strongman, and other various exercises.
Pricing:
Unlimited - $165/mo
2/week - $125/mo
Boot camp
RCF Bootcamp is a group physical training program conducted by highly experienced coaches. This program is designed to build strength and fitness through a variety of intense intervals over a 1-hour period of time. Boot Camp training often commences with dynamic stretching and running, followed by a wide variety of interval training, including lifting weights/objects, pulling, pushups/situps, plyometrics, and various types of intense explosive routines. Many other exercises using weights and/or body weight routines, are used to lose body fat, increase cardiovascular efficiency, increase strength, and help people get into a routine of regular exercise.
Pricing:
Unlimited - $125/mo
2/week - $99/mo
cORPORATE WELLNESS
Like our commercial locations, our Corporate Wellness programs are founded on the principles of fitness, community, accountability, and integrity.
We are changing the landscape of Corporate Wellness with our community-based functional fitness programs. Our growing Corporate Wellness programs provide employees with top-tier coaching and facilitate team work & camaraderie while forging a more healthy and tight-knit culture.
BRING US TO YOU!
We are confident that we can execute engaging and dynamic workouts anywhere, regardless of budget or spatial limitations. Our programs are tailored to the needs of your employees' wellness. We have hosted workouts in a variety of spaces including: conference rooms, outdoor spaces, even designated large-scale facilities.
Heva Brazilian Jiu-Jitsu
RCF is now offering Brazilian Jiu-Jitsu with Head Instructor Hoc Do. BJJ promotes building a strong foundation for finding strength through disciplined martial arts. We will be teaching proper techniques, leverages, and grappling/take downs.
Yoga
RCF is now offering Yoga classes. Our certified instructors are here to help physical, mental, and spiritual practices. Yoga originated in ancient India and is one of the six orthodox schools of Hindu philosophical traditions.
rcf Barbell

an Olympic Weightlifting program the RCF way.
Rcf Bootcamp

a group interval training program designed to build strength and fitness through a variety of intense intervals.
RCF USAC

an intense training program focused on Strength & Conditioning for competitors.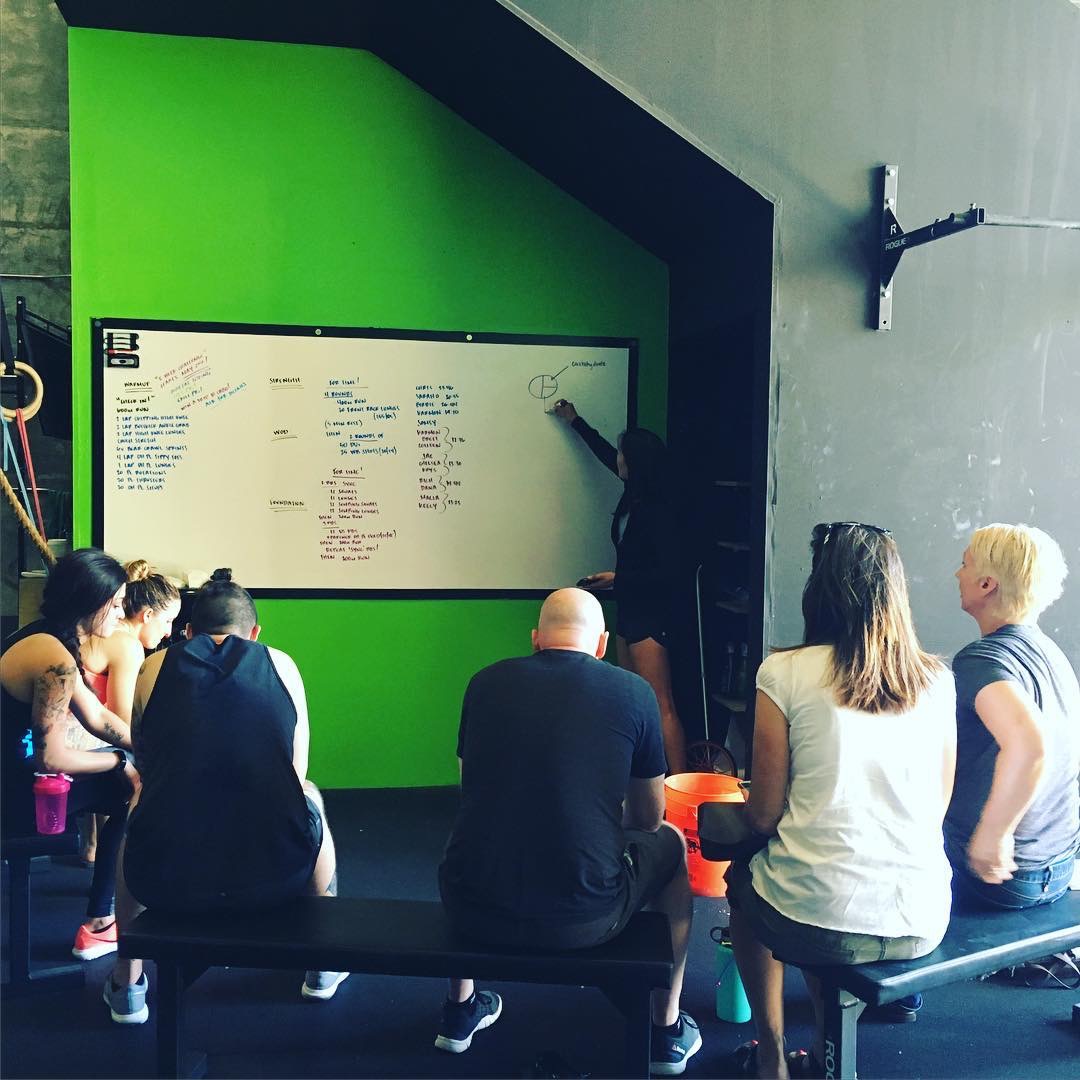 Nutrition
Our nutrition program is based on our genetic background, what we were designed to eat by nature. By avoiding grains and processed foods we reduce the risk of hyperinsulinemia, weight gain and overall health.
"Lean protein is perhaps our most powerful ally in the battle of the bulge." But this diet gives you much more than a slimmer figure. Unlike other low-carbohydrate diets, it's good for your heart. High-protein diets have been shown to be more effective than low-fat, high-carbohydrate diets in lowering total and bad LDL cholesterol and triglycerides while simultaneously increasing the good HDL cholesterol.
Isn't it time you got protein on your side? Eating lean meat and fish at every meal, just as your Paleolithic ancestors did, could be the healthiest decision you ever made.
What should i eat?
In plain language, base your diet on garden vegetables, especially greens, lean meats, nuts and seeds, little starch, and no sugar. That's about as simple as we can get. Many have observed that keeping your grocery cart to the perimeter of the grocery store while avoiding the aisles is a great way to protect your health. Food is perishable. The stuff with long shelf life is all suspect. If you follow these simple guidelines you will benefit from nearly all that can be achieved through nutrition.
WHAT FOODS SHOULD I AVOID?
Excessive consumption of high-glycemic carbohydrates is the primary culprit in nutritionally caused health problems. High glycemic carbohydrates are those that raise blood sugar too rapidly. They include rice, bread, candy, potato, sweets, sodas, and most processed carbohydrates. Processing can include bleaching, baking, grinding, and refining. Processing of carbohydrates greatly increases their glycemic index, a measure of their propensity to elevate blood sugar.
CALORIC RESTRICTION AND LONGEVITY?
Current research strongly supports the link between caloric restriction and an increased life expectancy. The incidence of cancers and heart disease sharply decline with a diet that is carefully limited in controlling caloric intake. "Caloric Restriction" is another fruitful area for Internet search. The prescription is consistent with this research. The prescription allows a reduced caloric intake and yet still provides ample nutrition for rigorous activity.
For more info… www.ThePaleoDiet.com
THE CAVEMAN OR PALEOLITHIC MODEL FOR NUTRITION
Modern diets are ill suited for our genetic composition. Evolution has not kept pace with advances in agriculture and food processing resulting in a plague of health problems for modern man. Coronary heart disease, diabetes, cancer, osteoporosis, obesity and psychological dysfunction have all been scientifically linked to a diet too high in refined or processed carbohydrate. Search "Google" for Paleolithic nutrition, or diet. The return is extensive, compelling, and fascinating.
WHAT IS THE PROBLEM WITH HIGH-GLYCEMIC CARBOHYDRATESt?
The problem with high-glycemic carbohydrates is that they give an inordinate insulin response. Insulin is an essential hormone for life, yet acute, chronic elevation of insulin leads to hyperinsulinism, which has been positively linked to obesity, elevated cholesterol levels, blood pressure, mood dysfunction and a Pandora's box of disease and disability. Research "hyperinsulinism" on the Internet. There's a gold mine of information pertinent to your health available there. The prescription is a low-glycemic diet and consequently severely blunts the insulin response.
RCF offers a nutrition coaching program with certified nutrition coaches and dietitians.
When you look at the Fitness Pyramid, the foundation is Nutrition. Dialing in your nutrition is a vital component in achieving optimal health, weight and performance goals. Our Nutrition Program combines behavioral change with achievement to create habits that will last a LIFETIME. No shakes, no short-term.
Our Nutrition Coaching Program is very unique and is designed to provide individuals with an easy, science-based approach to nutrition and wellness, using simple behavior modification strategies to create positive change without the stress of "dieting".
Imagine the confidence you could have walking into the grocery store or a restaurant knowing exactly what you should eat to not only feel great but look great too! The internet is filled with diet plans, recipe plans, and other information.
There are a lot of programs out there telling you what NOT to eat or how to replace meals with supplements or a shake but what if we could attain this confidence through learning what TO eat and using whole foods with limited ingredients? Behold, a teaching program to build life-long skills one step at a time!
Sports Massage
Coming soon to an RCF near you!